A better way to create invalidity charts
Our app automates the assembly of invalidity claim charts, so you can focus on finding and analyzing prior art. It also helps identify your strongest references and § 103 combinations and alerts you to any weaknesses.
Create a free account to see a demo project.
Register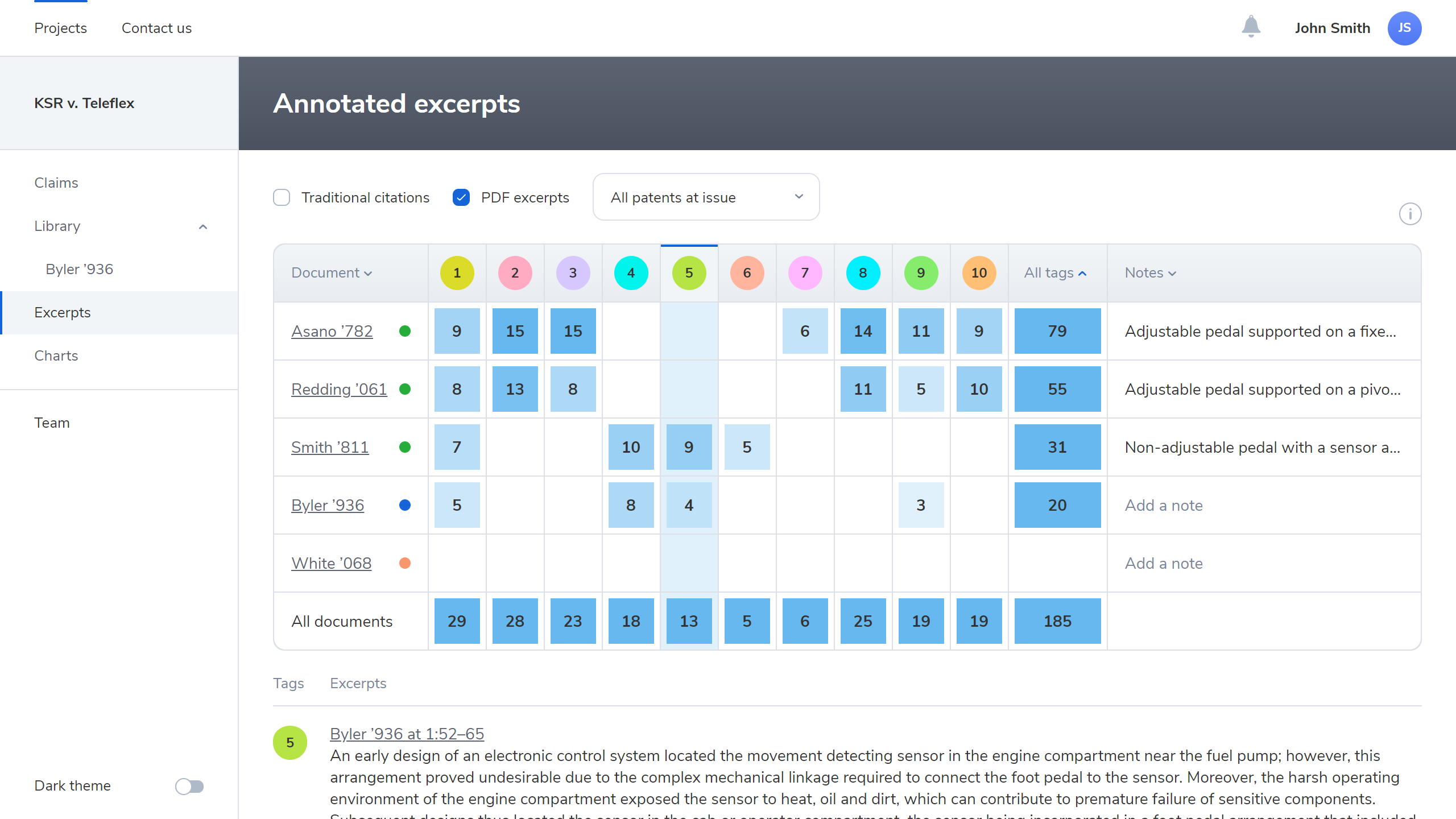 How it works
1
Add claims and identify unique claim elements
To get started, copy and paste the claims at issue into a new project. Then, click on each claim paragraph to associate one or more tags with that paragraph. Tags should represent the unique claim elements you want to find in the prior art.
2
Import prior art
Next, add your patent prior art by copy and pasting the list of document numbers into the lookup input. Upload the PDFs of non-patent literature and ad hoc translations.
3
Annotate prior art
As you read the prior art, highlight relevant passages and tag them with the claim elements you're looking for. Annotate figures, too, without having to use the snipping tool or print screen function.
4
Review disclosures
Check that your team are finding adequate disclosures for every claim element. The app makes it easy to identify potential weaknesses and review only the disclosures associated with those elements.
5
Generate claim charts
Customize a ready-made chart template to your liking. Then, generate a claim chart for each of your strongest references and § 103 combinations with a single click.
6
Edit claim charts
Customize your charts as needed. The excerpts in each chart update automatically as your team make further annotations to the corresponding prior art.
7
Export claim charts
Once a chart is finished, download it as a PDF or DOCX file. Exported charts make full use of styles in MS Word, so you can quickly and easily bold all citations, for example.
Get started
Benefits
Work smarter, not harder
The app automates menial tasks so you and your team can spend more time doing intellectual work, such as analyzing the prior art. Avoid having to build chart templates, copy and paste excerpts, or hand-type citations.
Instantly identify strengths and weaknesses
The app shows how many disclosures your team found for each claim element in every prior art document, making it easy to identify your strongest references and § 103 combinations, as well as any areas where your prior art may be weak.
Conveniently review disclosures
The app allows you to review all your team's annotations in one place whenever you want so you can make sure you found what you need well before the deadline.
Simplify collaboration
The app lets you invite colleagues, experts, and even co-defendant's counsel to help create or review charts. You can monitor the team's progress in real time, without ever having to ask for a status update.
Avoid mistakes
By automating error-prone tasks, the app eliminates common mistakes, such as excerpts being copied into the wrong chart rows or not being copied into every row they should be.
Reduce eye strain
The app includes a dark mode to make reading and annotating on a computer screen more comfortable.
Try it yourself!
Create a free account to view the demo project based on
KSR v. Teleflex
(2007).
Pricing
Participate in a project
Free
Add prior art
$150 per document*
* Applies to all prior art documents, including PDF uploads (e.g., non-patent literature) as well as US, EP, and WO patent art. Billed to the project organizer.
Create an account